Etiquette
No Socks are mandatory unless you enjoy wearing them...gripped bottoms are best!
Wear comfortable clothes (capris, tank top, form fitting workout pants work best).
Please refrain from ringing/answering cell phones during class. Although the atmosphere at Barre2Pilates is fun and relaxed, a ringing phone is distracting to other students.
Please try to avoid scented body lotions and body sprays/perfumes.
Please do not bring children to class unless the class schedule shows it is a child friendly class.
Benefits
Barre2Pliates combines classic dancer's warm-up (barre work) using the ballet barre to balance. The benefits include increased bone density, strengthening and lengthening of the major muscles in the glutes, legs, and arms, increased flexibility, a stronger core, and increased stamina and endurance. The muscles are challenged to fatigue and then stretched for relief. As the muscles are working, there is an overall calorie burn as well as an ``after-burn`` where the muscles are continually burning calories to repair themselves! Mat Pilates uses specific breathing patterns with abdominal workout to get to the deepest of the stomach muscles on top of the spine, the transverse-abdominals, to create the flat, strong abdominal wall. The core/girdle of the body is engaged in the barre portion of class, using a tucked pelvis, as well as the Pilates mat portion. The combination of Barre and Pilates is unbeatable in achieving your best body!
About your instructor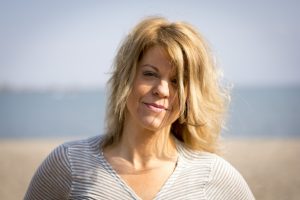 Daniela has been teaching Pilates since 2001. A lover of many forms of exercise, Pilates has made the most impact in her fitness regime! Introduced to Barre fitness in 2011, she soon realized that this was the perfect complement to traditional mat Pilates to achieve the biggest burn for your buck! Daniela is very passionate about teaching and loves to share her excitement of Barre with her students! Daniela holds a Master's Degree in Healthcare Administration and is Pilates and Barre certified through the National Trainer's Exercise Association. She is married and a mother of 3.
How Much Does It Cost?
Pricing Tiers and Benefits
Monthly Fee
Unlimited Classes
Access to all Barre Pilates classes for an entire month! Come at your leisure!
DROP IN PRICE
Express Barre
This is a 35 minute class suited to give the maximum benefits in a short amount of time.
DROP IN PRICE
Traditional Barre
This 60 minute class offers a vast array of mat pilates in combination with barre workout to push you to your full potential!
Our Location
Mentor

7967 Mentor Ave, Mentor, Ohio 44060
Eleanor B Garfield Park (main building, second floor)
We'd love to hear from you
Have questions about how Barre2Pilates can benefit your body?  We would love to hear from you!  Please feel free to email us or call us!